Applique,decorative molding, and roof systems
Micro waterproof push pins
Compact push pins with simple mounting by clipping and waterproof sealing, good solutions for tight packaging environment.
Micro flange clips
Their optimized size allows them to fit in small holes, perfect compact answer to these applications while ensuring a strong fastening.
PRODUCT FOCUS
Compact solutions
Compact quarter-turn snap-on clips are an ideal trim fastening solution for situations with packaging constraints and for trim like sliding rail finishers where regular fir-tree mounting is not possible.
The clips can be easily removed from the body but stay fastened to the finisher for easy serviceability. An oblong hole allows the finisher to be adjusted for optimal tolerance management.
Roof molding flaps
Delivered as a mounted part combining the two plastic parts our roof molding flaps are easy to mount and are delivered in trays to allow a fully automatic assembly. The flaps open either by swinging or sliding on a defined position and defined opening and closing forces.
PRODUCT FOCUS
Bonded solutions for greater design flexibility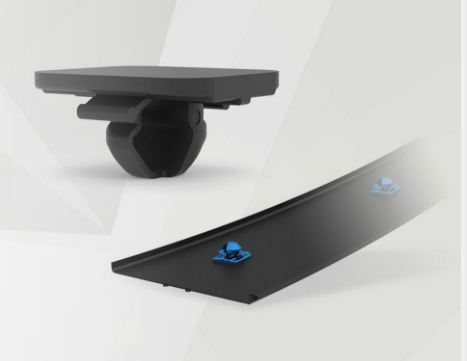 Combining strength and aesthetics, our bonded solutions deliver a clean surface finish and compact assembly. The bonded clip is pre-mounted on the trim and then the trim is mounted on the car body.