Beijing Daxing airport opens with high speed rail and metro links
https://www.railwaygazette.com/passenger/beijing-daxing-airport-opens-with-high-speed-rail-and-metro-links/54703.article|October 30 , 2019
CHINA: Two rail links to Beijing's second international airport were opened for revenue services on September 26, the same day that commercial passenger flights began using Beijing Daxing Airport. This followed official inauguration of the airport by President Xi Jinping the previous day.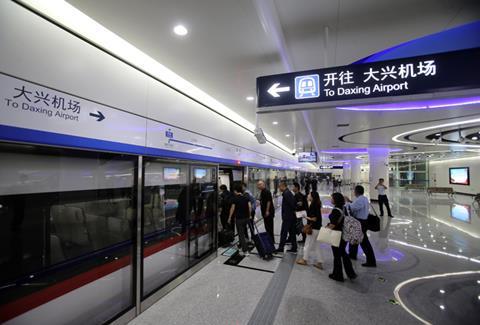 The airport is served by a 47 km high speed line from Beijing Xi, which includes 28 km of viaduct. The line has one elevated intermediate station at Daxing, while the airport station is underground. Trains are able to run at up to 250 km/h, giving a journey time of 20 min. Services are operated using a fleet of CR400AF trainsets with modified interiors to provide a large luggage storage area and 2+2 rather than 3+2 seating.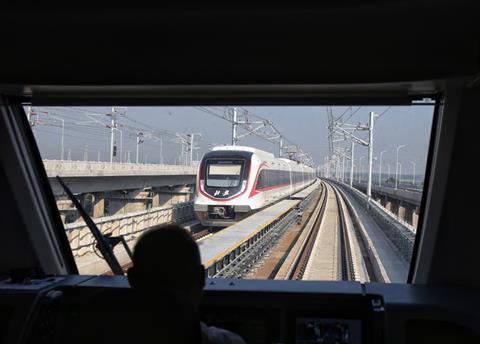 Preliminary works for the 33·5bn yuan project began in December 2016, with major construction getting underway following formal approval of the line by the National Development & Reform Commission in February 2018.
The airport rail link will form part of the 93 km Beijing – Xiong'an inter-city railway when the second phase from Daxing Airport to Xiong'an opens in November 2020. This section has been designed for 350 km/h, and non-stop trains are expected to achieve an end-to-end journey time of just 30 min.
A 41·4 km suburban metro line, branded as Daxing Airport Express, connects the airport with Caoqiao station on orbital metro Line 10, and has one intermediate station at Daxing Xincheng. The line is elevated for 17·7 km, with the remainder being underground. Test running has been underway since June.
The metro line is worked by a fleet of 12 eight-car Type D trainsets, which include a dedicated luggage vehicle. Built by CRRC Qingdao Sifang, and designed for driverless operation, the trains have a maximum speed of 160 km/h, providing a journey time from Caoqiao of just 19 min. Services operate every 8 to 10 min between 06.00 and 22.30.
The metro is due to be extended north by 3·5 km from Caoqiao to Lize Business District in 2020-21, while a short extension to Daxing Airport South is also envisaged at the other end of the route.